rssSan Andreas Weather Cycle (sa_weather)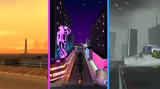 (see 1 picture)
| | |
| --- | --- |
| Category: | script |
| Author(s): | enemychad |
| Downloads: | 402 |
| Rate: | You need to be logged in to vote |
| Rating: | 4 (1 Vote) |
Description:
San Andreas weather cycle / San Andreas hava durumu

English:
A simple script I made for Forseti RPG.

This script gives each major city a different weather state. Weather cycle changes every now and then, giving every city a new one.

When you step into a new city the weather will slowly change.
---

Türkçe:
Forseti RPG için yapılan basit bir script.

Bu script tüm büyük şehirlerin hava durumunu birbirinden farklı yapar. Hava durumu aynı kalmaz, zamanla her şehir için değişecektir.

Bir şehirden diğerine geçtiğiniz zaman hava durumu yavaşça değişir.
Version history
| Version | Publish Date | Changes | |
| --- | --- | --- | --- |
| 1.0.0 | 2020-07-21 23:51:06 | First public release | Download |