rssResource Panel - Grubu: ResourcePanel (lostresource)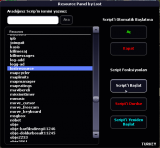 (see 1 picture)
| | |
| --- | --- |
| Category: | script |
| Author: | LostBey |
| Downloads: | 264 |
| Rate: | You need to be logged in to vote |
| Rating: | 3 (1 Vote) |
Description:
TR:
- Paneli açmak için ACL'de "ResourcePanel" grubu açıp kendinizi o gruba alınız.
- Panel'e admin yetkisi veriniz. Ondan sonra script'i startlayıp "/reconnect" atınız. Aksi takdirde script çalışmaz!
- Paneli açma tuşu "O" tuşudur.
- Eğer paneli açtığınızda Scriptler karşınıza gelmezse, arama kutusuna herhangi birşey yazın ve silin. Düzelecektir.
- Panelin amacı; Resolu admin diye verecekleriniz içindir. Yani ACL erişimleri olamaz. Saldırıları azda olsa önleyebilir.
- Panel Özellikleri:
• Otomatik Açma/Kapatma
• Script Açma/Kapatma/Yeniden Başlatma
• Script Arama
- Güle Güle Kullanın :-)
ENG:
- Open the "ResourcePanel" group in the ACL to open the panel and get yourself in that group.
- Give the panel admin authority. Then st
art the script and enter "/reconnect". Otherwise the script will not work!
- The panel opening key is the "O" key.
- If you do not get the Scripts when you open the panel, type anything in the search box and delete it. It will be fine.
- The purpose of the panel; For the resources you will give as admin. So they can not have ACL access. Attacks can be avoided at least.
- Panel Features:
• Auto Start / Stop
• Script Start / Stop / Restart
• Script Search

- Enjoy :-)
...

(more)
Version history
| Version | Publish Date | Changes | |
| --- | --- | --- | --- |
| 1.0.0 | 2018-01-31 18:19:43 | First public release | Download |