rssPanel-Help (panel-help)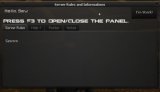 (see 1 picture)
| | |
| --- | --- |
| Category: | script |
| Author: | Sawos |
| Downloads: | 140 |
| Rate: | You need to be logged in to vote |
| Rating: | 1 (1 Vote) |
Description:
Hello Everyone, this is my first uploaded script which i've made to this Lovely community.
The script name says it all :
______________________________________________________
=>Once the Players logs in the Help-panel pops down with an animation "OutBounce", if you look carefully into the client side, you have the rights to change the Panel animation at the line "100" as they animations names listed on the first line.
=> a title "Hello, Gets the Playername" plus "Press F3 to Open/Close The Panel." Shows up at the Panel getting changed into White/Black within Timer plus a font.
=> Server Rules/ HELP ? Tab: which you can add your own rules,etc ...
=> Roster Tab : You can add Staff Roser righ there or whatever you want to list, with a font of Staff Roster, the Tab is set as
SetReadOnly.

=> Notes Tab : You can add Notes Here, The Tab is set as TextAble which you can save your Notes There.

=> I'm Stuck Button, which you can use in case you were stuck, which teleports you to the nearest Hospital.

Pictures: https://imgur.com/a/jwJks
~~~~~~~~~~~~~~~~~~~~~~~~~~~~~~~~~~~~~~~~~~~~~~~~~~~~~~~~
The script Client side was set an exemple for RPG server, You have the full rights to edite it.
...

(more)
Version history
| Version | Publish Date | Changes | |
| --- | --- | --- | --- |
| 1.5.5 | 2018-01-21 12:33:06 | First public release | Download |