rssenginestartblo (vehicles bomb)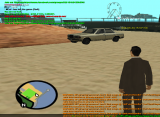 (see 1 picture)
| | |
| --- | --- |
| Category: | script |
| Author: | khadeer143 |
| Downloads: | 34 |
| Rate: | You need to be logged in to vote |
| Rating: | 1 (1 Vote) |
Description:
hello all this is funny and cool script!

how it works there r some vehicles spawned at santa maria beach .when u enter the car u wil try to drive when u press w or just enter driver seat it will blow!
it will frank for players who wait for downloading and search for vehciles to roam

best advice give a local spawn at santa maria beach to have fun

it will be funny to see wasted !!



Version history
| Version | Publish Date | Changes | |
| --- | --- | --- | --- |
| 1.0.0 | 2017-11-08 22:10:34 | First public release | Download |