rssZombies in area (area_zombies)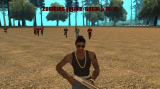 (see 3 pictures)
| | |
| --- | --- |
| Category: | script |
| Author: | Dutchman101 |
| Downloads: | 1173 |
| Rate: | You need to be logged in to vote |
| Rating: | 3 (2 Votes) |
Description:
!! COMPLETELY NEW FROM SCRATCH, NO slothbot, zday or anything involved !!
Zombies in area that try to attack players, you can headshot them too. They will only spawn when players are in the area and resource won't eat performance. (0.15%)
TP to location: /zombies
The zombies can kill you quickly if they come too close, be sure to defend well.
Default area: farm field near SF airport (-1156.86279 -960.42853 129.21875) see picture 1 for location.
+ Database resource .db to save zombie kill stats to player account. Reward 1000$ for each kill by default.
DX stats counter to the right in screen, showing current zombie-area players their kills/deaths and zomb headshot stats.
Official topic:
https://forum.mtasa.com/topic/97217-rel-new-zombie-infeste..ea-script/
Useful commands for admins:
- /wipefield (remove everyone from zombie area, useful for say plenty of AFKers distracting zombies to their location..)
- /populate (TP 5 randomly selected players to the zombie field, to start it up or easier create server events. Be careful as not all players like a sudden TP, you might disturb them..)
Version history
| Version | Publish Date | Changes | |
| --- | --- | --- | --- |
| 1.6.0 | 2017-07-06 15:59:24 | fix variable settings typo | Download |
| 1.5.0 | 2017-07-06 15:02:01 | Added: option to respawn back in zombiefield when player dies, anti-deathmatch (player vs player) option, fixes to zombiekill stats GUI, improved sync & server/client performance, added 2 admin commands. | Download |
| 1.1.0 | 2017-07-03 23:46:03 | Added zombiekills database and reward, improved sync and fixed random zomb respawning bug | Download |
| 1.0.0 | 2017-07-03 12:20:13 | First public release | Download |