rssAircraft bomb drop (bombfromairplane(hydrabomb))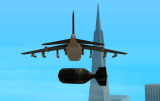 (see 1 picture)
| | |
| --- | --- |
| Category: | script |
| Author: | AlternateMe |
| Downloads: | 725 |
| Rate: | You need to be logged in to vote |
| Rating: | 5 (3 Votes) |
Description:
Simply drop bombs from aircraft! I noticed something as common like this was missing from community;

Press 'Z' or write /airbomb to drop a mid-sized and destructive bomb.

By default: drop only from Hydra and Rustler
but you can enable for all Planes (change .lua variables as the commenting says)

you can change the visual size of bomb and dropping speed (how fast it reaches ground) also with .lua variables

If you change any variable settings, make sure client and server variables match and you change both into new values.
do NOT try to apply for Helicopter ID's!
Version history
| Version | Publish Date | Changes | |
| --- | --- | --- | --- |
| 1.0.0 | 2017-06-29 19:12:15 | First public release | Download |