rssSpeakerSystemByxXMADEXx (3dspeakersystme(xxmadexx))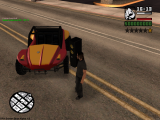 (see 4 pictures)
| | |
| --- | --- |
| Category: | script |
| Author(s): | xXMADEXx |
| Downloads: | 7116 |
| Rate: | You need to be logged in to vote |
| Rating: | 3.9 (27 Votes) |
Description:
STAFF NOTE: we recommend you use this script:
https://community.mtasa.com/?p=resources&s=details&id=18330
instead
Hello guys, i made a new 3D speaker sound system! This one has a GUI, and sound volume customization. It's very easy to use.
Please rate 5/5, I worked very hard on it, i think that you will like it very much!
To open the GUI, simply type "/sound"
or /speakers, or /music
It can play direct music download links for supported formats (for example: link ending with .mp3) or internet radio stations (like http://IP:port, or stream web URL.. go to shoutcast.com > download M3U format (edit with notepad and take IP or link from it) for some good radio stations to play.
Version history
| Version | Publish Date | Changes | |
| --- | --- | --- | --- |
| 1.6.0 | 2019-04-01 21:54:40 | small bugfix | Download |
| 1.5.0 | 2019-01-27 06:50:00 | various improvements and clean ups, including anti-spam and security fix against server DoS. (update by MTA staff) | Download |
| 1.4.0 | 2014-06-19 06:39:07 | Decompiled | Download |
| 1.1.0 | 2013-06-12 05:06:55 | Fixed interior and dimensions bug, and added outputDebugString | Download |
| 1.0.0 | 2013-06-11 10:08:29 | First public release | Download |