rssBackground remover (backgroundremover)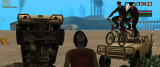 (see 1 picture)
| | |
| --- | --- |
| Category: | script |
| Author(s): | IIYAMA12 |
| Downloads: | 89 |
| Rate: | You need to be logged in to vote |
| Rating: | 5 (1 Vote) |
Description:
This resource can be used to remove backgrounds. When you choose one of the 2 screen capture modus, a green-screen will be visible.
Which hides everything you do not want to capture. Note: this resource does NOT use the background remove techniques of a green-screen.
Instead it captures 2 frames and compares the pixels between those. So not great for moving targets!
Screen capture modus:
- Basic = capture 1 frame
- Burst = captures 3 frames with some delay
Recommendation:
When the background is removed, the images could have hard edges. Best to soften those edges in Photoshop or another tool that is capable doing of that.
Known issues:
- Bad results with moving targets
- Hard edges
- Bad results with flickering effects
- Bad results with smoke effects
Commands can b
e found in the help.xml file (or F9 ingame).

...

(more)
Version history
| Version | Publish Date | Changes | |
| --- | --- | --- | --- |
| 1.0.0 | 2021-10-04 22:13:31 | First public release | Download |