rssDataStore (datastore)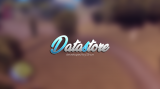 (see 2 pictures)
| | |
| --- | --- |
| Category: | script |
| Author(s): | Shux |
| Downloads: | 227 |
| Rate: | You need to be logged in to vote |
| Rating: | 5 (2 Votes) |
Description:
Res: DataStore v1.0.0
DataStore allows you to store data (string/table) to a specific key in the database table. All you have to do is enter your database information in settings.lua('sqlite' or 'mysql') and once connected you can use the datastore exported functions to store and/or get data from the db table.
Very useful for beginner developers who lack experience with MySQL/SQLite.
See:
https://wiki.multitheftauto.com/wiki/Resource:Datastore
Version history
| Version | Publish Date | Changes | |
| --- | --- | --- | --- |
| 1.0.1 | 2020-02-05 00:04:54 | Non-compiled | Download |