rssLive Weather Metro App (liveweather)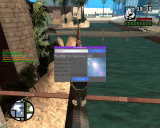 (see 2 pictures)
| | |
| --- | --- |
| Category: | script |
| Author(s): | Ryan143 |
| Downloads: | 608 |
| Rate: | You need to be logged in to vote |
| Rating: | None (0) |
Description:
A live weather telling metro app. Tells accurate weather of city entered.
Features:
- /weather to open UI.
- Get weather of any city around the world (Type accurate name).
- Tells Temperature, Humidity, Wind speed and sky text.
- Automatically draws sky picture from given ones.
NOTE: This script wont run without callRemote access, read "callRemote.txt" from archive. If anything goes wrong with my webpage from where it calls weather, contact me ASAP, you can comment in here as well, i'll fix it ASAP!
NOTE: This archive also contains PHP source file, dont remove my copyrights from that :)
Join the biggest community of MTA:SA, visit
https://cit2.net/
Forum thread:
https://forum.mtasa.com/viewtopic.php?f=108&t=85292
Version history