rssVip Panel (bycash-vippanel)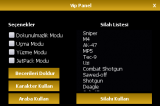 (see 1 picture)
| | |
| --- | --- |
| Category: | script |
| Author: | ByCash |
| Downloads: | 553 |
| Rate: | You need to be logged in to vote |
| Rating: | 4 (4 Votes) |
Description:
Türkçe (Turkish)
Vip Panel
*Paneli "Vip" yetki grubuna üye olanlar açabilir.
*Panelin açma komutu /vip dir.
*Tüm ayarlar server.lua da bulunan ön ayar kısmından ayarlanabilir.
Detaylı bilgi için
www.MTASA-TURK.com
'u ziyaret ediniz.
━━━━━━━━━━━━━━━━━━━━━━━━━━
İngilizce (English)
Vip Panel
* Those who are members of the "Vip" authority group can open.
* The command to open the panel is / vip.
* All settings can be adjusted from the preset in server.lua.
For detailed information
www.MTASA-TURK.com
Version history