rssM79 lanza granadas (m79_lanzagranadas)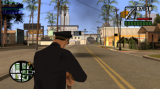 (see 4 pictures)
| | |
| --- | --- |
| Category: | script |
| Author: | Redemtion |
| Downloads: | 285 |
| Rate: | You need to be logged in to vote |
| Rating: | 3 (1 Vote) |
Description:
◥Español◣
Un lanza granadas que remplaza el "rifle" que consume la munición del arma.
El mod es editable, contiene sonido del arma y realiza una animación de recarga.
▬▬▬▬▬▬▬▬▬▬▬▬▬▬▬▬▬▬▬▬▬▬▬▬▬▬▬▬▬
◥English◣
A grenade launcher that replaces the "rifle" that consumes ammunition from the weapon.
The mod is editable, contains gun sound and performs a reload animation.
▬▬▬▬▬▬▬▬▬▬▬▬▬▬▬▬▬▬▬▬▬▬▬▬▬▬▬▬▬
Video:
https://www.youtube.com/watch?v=9amZwHoUSfc
Version history
| Version | Publish Date | Changes | |
| --- | --- | --- | --- |
| 1.0.0 | 2017-05-19 21:48:25 | First public release | Download |