rssFPS Counter (fpscounter)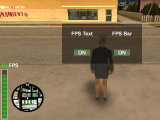 (see 4 pictures)
| | |
| --- | --- |
| Category: | script |
| Author: | DREFTHUN |
| Downloads: | 282 |
| Rate: | You need to be logged in to vote |
| Rating: | 2.5 (2 Votes) |
Description:
Hey there! This is my first script uploaded!

About the script:
It counts your avarage Frames Per Second In-Game. After you start the script, you have to wait 1 second for it to show up (to calculate the first FPS value)
The maximum FPS it can display is 60 FPS!

It is compiled, and I added my watermark in the bottom right, to prevent it from getting credited by other users!
Version history