rssDD Rankings (ranked_dd)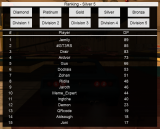 (see 2 pictures)
| | |
| --- | --- |
| Category: | script |
| Author: | Bananovy |
| Downloads: | 502 |
| Rate: | You need to be logged in to vote |
| Rating: | None (0) |
Description:
Ranking system for DD servers.

Whole ranking system has 5 ranks with 5 divisions each. Player has to be logged in to keep his points. New player starts in Silver 5 with 0 DP (Derby Points).
The amount of received points depends on how many players were in the round and player's position.
Everything is saving into own database.
After reaching 100 DP in division, player's ranking/division is going up.

F3 opens the ranking list. Use scroll (duh!) to see lower positions on the list.

Resource requires at least 2 players to count DP.
Version history
| Version | Publish Date | Changes | |
| --- | --- | --- | --- |
| 1.0.0 | 2017-01-31 13:11:30 | First public release | Download |