rssRace Lap Counter (racelaps)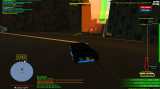 (see 2 pictures)
| | |
| --- | --- |
| Category: | script |
| Author: | MegasXLR |
| Downloads: | 30 |
| Rate: | You need to be logged in to vote |
| Rating: | 1 (1 Vote) |
Description:
A resource which counts how many laps you've done on each map and displays he information in the down right corner.
This is the first resource of it's kind on the community. It doesn't count checkpoints to measure laps. It constantly searches for the player's current position and compares that to his start position. If he passed through the start position, a lap gets added to the display. Have fun :)

PS: If you get some errors about the "totalCheckpoints" variable, just remove that part.
Version history