rssTag Panel (tag-panel)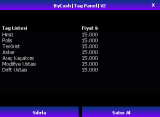 (see 4 pictures)
| | |
| --- | --- |
| Category: | script |
| Authors: | ByCash, ShockWave |
| Downloads: | 2291 |
| Rate: | You need to be logged in to vote |
| Rating: | 3.1 (80 Votes) |
Description:
Türkçe (Turkish)
Tag Panel
*Panel 'O' ile açılır.
*Tag alabilmek için yetki gerekmiyor.
*7 tane tag kapasitesi vardır.
*Yetkililerde tag alabilir.
Detaylı bilgi için
www.MTASA-TURK.com
'u ziyaret ediniz.
━━━━━━━━━━━━━━━━━━━━━━━━━━
İngilizce (English)
Tag Panel
*Panel opens with 'O'.
*No authorization is required to get a tag.
*There are 7 tag capacities.
*Authorities can tag.
For detailed information
www.MTASA-TURK.com
Version history
| Version | Publish Date | Changes | |
| --- | --- | --- | --- |
| 3.9.0 | 2018-01-12 14:30:38 | Birkaç hata giderildi. (bugs fixed.) | Download |
| 3.1.0 | 2017-06-20 16:08:16 | Kayıtsız oyuncular için tag eklendi.(Added tag for unregistered players.) | Download |
| 3.0.0 | 2017-06-19 15:17:00 | Tüm buglar giderildi. (All bugs fixed.) | Download |
| 2.0.0 | 2017-05-14 16:20:58 | Tasarım, İşlev değişmiştir, Debug temizlenmiştir. | Download |
| 1.0.0 | 2016-08-31 22:07:52 | First public release | Download |