rssfloorgen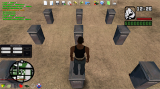 (see 4 pictures)
| | |
| --- | --- |
| Category: | script |
| Author: | Noamsito |
| Downloads: | 50 |
| Rate: | You need to be logged in to vote |
| Rating: | None (0) |
Description:
Floor Generator:
This is a simple editor plugin that will help you make precise, flush and sleek floors/grids of objects for your maps in the press of a button.
HOW TO USE?
enter how much objects you want length and width wise (I advise to not exceed 30x30 or 1000 objects per floor)
then enter what space should be between the objects length and width wise. Finally click your desired object in the editor and press the button "Select Object" then press "Go!" and your floor is created! don't like it? press "Undo" and that's about it.
In depth tutorial + Custom floors download:
https://mrgreengaming.com/forums/topic/20366-floor-generat..or-plugin/
Version history
| Version | Publish Date | Changes | |
| --- | --- | --- | --- |
| 1.0.0 | 2018-09-22 13:46:01 | First public release | Download |