rsskchaticon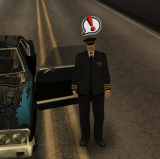 (see 1 picture)
| | |
| --- | --- |
| Category: | script |
| Author: | kheprafish |
| Downloads: | 708 |
| Rate: | You need to be logged in to vote |
| Rating: | 3.7 (3 Votes) |
Description:
-- CHAT ICON/BALLOON ABOVE HEAD WHILE TYPING --
This is the original 'kchaticon' resource that was deleted from Community for no good reason. (author Khepra)
Dug it up and modernised/fixed the code, it has a lower performance toll now, and doesn't need serverside anymore.
- Draws chatting icon above the head of who'se typing in chatbox, aslong they are writing, visible to anyone close so they know he's busy typing. Very useful..
(Staff re-upload decision - author inactive for years on forums so he can never have requested deletion, (deleted under unknown circumstances) many people have asked for the resource as I've seen so decided to restore)
Author's profile:
https://forum.mtasa.com/profile/1961-khepra/
Version history